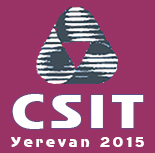 CSIT-2015 Conference Live Broadcast (Provided by ASNET-AM).

Please, follow the Conference Program to see the appropriate broadcast time for each Hall.

To follow Conference program online you can do one of the following:

1. Browser based Live Streaming:

2. VLC based Live Streaming (VLC for Android supported too):

To use this option you will need VLC Media Player installed on your computer. You can download latest VLC Player from the Original site.
Also some browsers (like Mozilla Firefox, Google Chrome, etc.) support special VLC Web Plugin to play the following links directly in browser.
VLC Web Plugin may be installed with the above VLC Media Player package, but may require some special configuration for your browser.

Having VLC media player/VLC Web Plugin installed on your computer
click on any of the following links and choose to open it with VLC/VLC Web Plugin.



Mobile users could install VLC for Android and then just click to the below link.
Note: VLC media player is the only recommended and tested player for the above streams.